White Lung Mourns Jose Jesus Pessora
On behalf of the Board of Directors and Members of the White Lung Association we send our upmost support and condo lances to the brothers and sisters of ABREA (Brazilian Asbestos Victims) for the tragic loss of Jose Jesus Pessora. Brother Pessora, known to many as Ze Da Capa worked for the Eternit asbestos company in Osasco, Brazil for over 27 years. Asbestos Disease claimed his life on March 11, 2005. Brother Pessora suffered with asbestosis, pleural plaques and scarring which caused his heart to overwork and fail.

Jose Jesus Pessora was a member and leader of the first group of ex-Eternit workers examined in 1995. He was a stout supporter of Fernanda and the world wide effort to ban asbestos and bring justice to asbestos victims. He served ABREA as an officer and organizer. The memory of his contributions to public health and his constant struggle for justice will be cherished by asbestos victims and their families throughout Brazil and the world.

One brave martyr has gone down, let ten thousand take his place!

Jim Fite
---
ABREA's Mourning <the following obituary translated from Portuguese by the author>
Jose Jesus Pessoa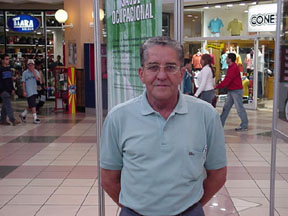 (which nickname was ZE DA CAPA received as working for Eternit in Osasco for 27 years and 4 months because he was a leader of production and more experienced....he wore a kind of garment with white collar and very respected amongst his subordinated team).....He passed away on 3/11/2005 with 63 years old (he was born in 24/2/1942) and suffered asbestosis + pleural plaques...his heart didn't support and failed..............
He was in the first group of ex-Eternit workers examed in 1995 and helped me to fund ABREA....from 1995 until now he was very active....and has acted as treasurer, our public relations and was always smiling, polite person always supported my actions ...

Ze da Capa and his family (his wife and daughter) when I received the remarkable woman in 2001.
His death is a big loss for ABREA and especially for me.
Fernanda Giannasi