Paul Logan Safchuck
1913-2003
Paul Safchuck, beloved President of the White Lung Association, died May 21, 2003, of complications from asbestos related disease. Mr. Safchuck, raised in a coal mining family, moved to Baltimore, MD. in the late '30's and worked at Bethlehem Steel from 1937 to 1975. He married Deermeedina Munshower in 1940 and they lived in Dundalk, MD until her death last year.
Mr. Safchuck was active in causes that supported children and sick workers throughout his life. He received Certificates of Appreciation for this volunteer work from the Maryland House of Delegates and in 1969 from the Governor of Maryland. He was awarded Certificate of Achievement by the Citizens Clearinghouse for Hazardous Waste in 1986 for his successful efforts to close Norris Landfill. In April of 2000, he received the Governor's Annual Volunteer Service Award for work with on behalf of victims of asbestos disease.
Mr. Safchuck joined the White Lung Association in 1982 and became the president of the Dundalk chapter later that year. In 1983 he was elected WLA national treasurer and in 1984 he was elected national president. He held this post until his death. Under Mr. Safchuck's leadership, the White Lung Association flourished and was active in providing education necessary to pass state and federal legislation to control and eliminate asbestos exposure.
Mr. Safchuck was tireless in his efforts to educate the general public to the hazards of asbestos exposure. He was very active in protecting children from asbestos exposure and in keeping asbestos victims from being cheated of their compensation. He testified in Congress to support the passage of the Asbestos Hazard Emergency Response Act, which strictly controlled and helped remove asbestos from school buildings.
Mr. Safchuck is survived by three children, Victor Safchuck, James Heatley and Darleen Mathews, five grandchildren and one great grand child, in addition to three brothers, Walther, Dan and Lloyd and two sisters, Florence and Anna.
Mr. Safchuck's wish was that contributions to the White Lung Association be made in the place of flowers. The White Lung Association address is PO Box 1483, Baltimore, MD. 21203.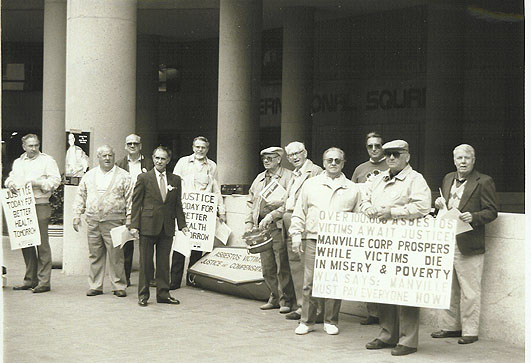 Paul Safchuck, fifth from right
WLA members protest trust payments from the Manville Trust (which now are less than $200 for most cases), 1990
---
---

Joe Oliver's Alerts:

Joe Oliver, National Board Member and former President of the White Lung Association, has issued a call to all persons to help gather evidence on the conspiracy by asbestos trade organizations to suppress the knowledge about the hazards of asbestos exposure.

If you know anything about this horrific history or have documents which can be used to further prove their heinous crimes, please contact Joe Oliver, WLA, POB 1483, Balt. MD 21203.

The White Lung Association stands in opposition to The Specter Bill (S.852)

---

S.1115: Bill to amend the Toxic Substances Control Act to reduce the health risks posed by asbestos-containing products - This bill is supported by the WLA.

Senator Specter Breaks Promise to Mesothelioma Patient and Research Community

Senate Judiciary Committee returns to Mark-Up on May 11th: Proposed asbestos trust fund legislation will further penalize victims of asbestos-caused diseases

---

In May 2003, the Global Environment & Technology Foundation developed the "Asbestos Strategies" report.

The latest issue is Spring 2005

The latest issue is January 4, 2007

Features:

December 17, 2000 is Asbestos Hazard Awareness Day

Current Projects:

Articles & Publications:

Occupational Respiratory Diseases: Asbestos Associated Disease -- Reprinted from: Maxcy-Rosenau Public Health and Preventative Medicine 11th ed. (John M. Last, Ed.) 1980, Appleton-Century-Crofts

Asbestos Victims Deserve Compensation Not Betrayal: position release by the Board of Directors, White Lung Association

---

In Memoria:

Dr. William Nicholson Dies at 70